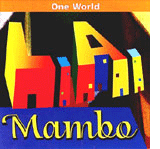 L.A.Mambo
The new release from One World. This new project contains twelve vocal and two instrumental tracks, full of hot Latin rhythms, incredible vocals, sensuous love songs, and superb instrumental performances. Featuring the lead vocals of singer/songwriter Frank Unzueta and Alandras Brown. L.A. Mambo is sure to become an instant classic!

Sample CD Tracks
| | |
| --- | --- |
| Abrame La Puerta | |
| Can't Let You Go | |
| Say You Will | |
| Guilty of Falling In Love | |
Spirits Beckon You
One World's first release. This collection of smooth Caribbean sounds has remained a favorite among radio stations worldwide! Spirits Beckon You is still regarded by critics as a superb and groundbreaking collection of songs by a new group.

Sample CD Tracks
| | |
| --- | --- |
| Spirit Beckon You | |
| Johannesburg | |
| East Of Java | |
| Monique | |
Purchase Music Online at:
iTunes.com
Amazon.com

To purchase a CD, please mail $15.00 plus $2.50 postage and handling to Sunstone Records, 1122 W. 21st Street, San Pedro, Ca. 90731. Make checks payable to Sunstone Records.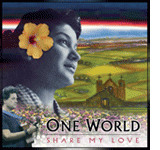 Share My Love Singer/songwriter Frank Unzueta has
written 15 great new songs that are on the
cutting edge of Latin music. Beautiful
vocals, incredible acoustic guitars &
violins, and hot Latin percussion. Latin
music will never be the same! Featured
tracks include ShareMy Love, Las Calles,
Julia (Espanol), andGiveYourself ToMe.
Over 60 minutes of music!

Sample CD Tracks
| | |
| --- | --- |
| Share My Love | |
| Got A Letter | |
| Las Calles | |
| Orale | |
| Julia | |
FRANK UNZUETA RELEASES DEBUT JAZZ RECORD
THOUGHTS REVEALED out June 12 on Sunstone Records
30 April 2012…Sunstone Records will be releasing the debut full-length record from Southern California-based jazz artist Frank Unzueta. The nine-song THOUGHTS REVEALED will be available June 12, 2012.
Influenced by Bill Evans, Chick Corea, and Oscar Peterson and reflective of his classical studies, THOUGHTS REVEALED is the culmination of many years of composing and playing. From the beautiful ballad "The Me You Created" to the Scott Joplin-influenced "Happy Toes Rag" and the Latin rhythms of "Elisa's Dream," each track is infused with personal story and diverse style inspirations that cross both era and geographic boundaries.
Frank has advanced classical piano training, but is entirely self-taught when it comes to jazz. "I was a guitarist first, but jazz always interested me. It's very natural to transfer those sounds to piano." Frank has been a staple in the Southern California live music seen for several decades, including with the world jazz outfit One World, which performed with Los Lobos, The Yellowjackets and Los Angeles Philharmonic. He lives in the San Pedro area, is active in the community he loves, and is working with the Music on Wheels program to bring music to people and institutions that do not have easy access to it.
The trio is rounded out by Larry Steen on bass, who has worked with artists including Ella Fitzgerald and Mel Torme, and drummer Gordon Peeke, whose credits include Stanley Clarke, Michael Jackson, and Bonnie Raitt. Also appearing on the record is saxophonist Eric Marienthal, who has worked with Chick Corea and David Benoit.
Producer Rafa Sardina has worked with Michael Jackson, Macy Gray, Michael Jackson, Shakira, Dr. Dre, Mariah Carey, and Angie Stone. He has received 25 American and Latin Grammy nominations for his work with Stevie Wonder, Luis Miguel, and Alejandro Sanz.
The trio will be at the Crowne Plaza LAX on May 24, and celebrating at the CD release party on May 29 at Spaghettini's Seal Beach. More dates TBA.
THOUGHTS REVEALED will be available on iTunes, Amazon, other online retailers, and in stores. For more information about Frank Unzueta, visit https://www.facebook.com/pages/Frank-Unzueta-Jazz-Piano-Trio/208312855907277.

THOUGHTS REVEALED TRACK LIST
1. Angel Girl
2. Happy Toes Rag
3. The Me You Created
4. Elisa's Dream
5. It Means Nothing…It Means Everything
6. Anything For You (For Cathy)
7. Madrid
8. The Apostle
9. Love Me When Winter Comes
MP3 "The Me You Created"
http://soundcloud.com/brosseaupr/the-me-you-created-from/s-Lvx